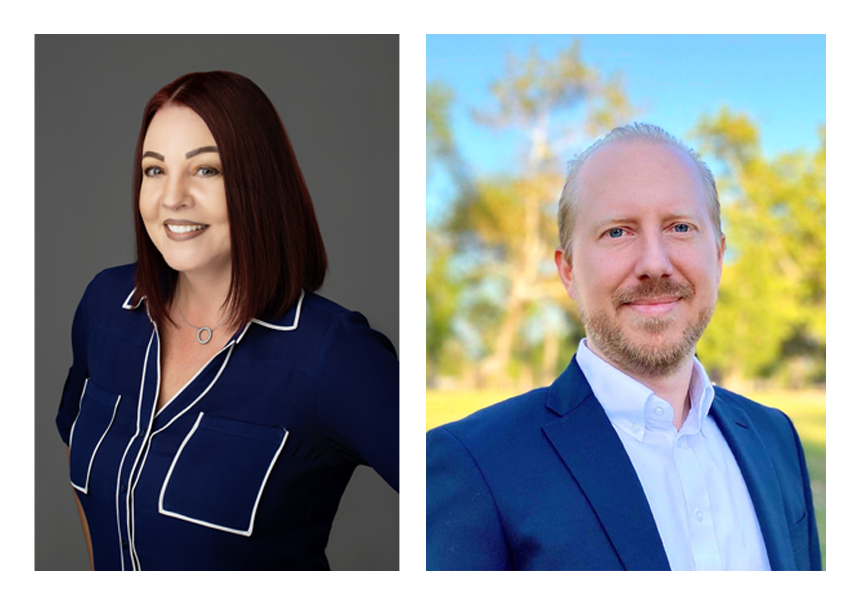 Headshots can be downloaded here
LAS VEGAS – Marshall Retail Group (MRG)and InMotion, both WHSmith companies, have announced two new additions to the joint executive team with the appointment of Alysa Zawistowski as senior vice president of people (SVP of people) and Joshua Bellendir as senior vice president of information technology (SVP of IT) and chief information officer (CIO).
"Alysa and Joshua are both passionate leaders with over 20 years of experience in their respective fields. They both have the drive to bring innovation, new ideas and positive change to our fast-growing company," said CEO of MRG and InMotion, Toby Keir, "We are thrilled to welcome two new members to our team who I am confident will contribute dutifully to our ongoing success while upholding our corporate values."
Bellendir will be instrumental in developing new ideas at MRG and InMotion that will lead to further innovation in the retail space while leading the expanding IT team to deliver improved customer experiences. Bellendir has gained many years of experience as a senior leader in IT through his work with companies like Abercrombie & Fitch, Fast Retailing (Uniqlo, Theory, J Brand), Deloitte, SoftBank Robotics, and most recently, Woven Planet.
Zawistowski has held key roles at JPMorgan Chase and Interstate Batteries, and most recently served as vice president of human resources for Arbonne International. With this experience, she will lead the People teams of both MRG and InMotion, effectively balancing big-picture thinking and strategic planning through various areas of human resources.
###
About Marshall Retail Group
Marshall Retail Group (MRG) is America's leading specialty retailer in the airport and casino- resort marketplace. For 65 years, MRG has provided clients with a collection of attractive, successful brands in more than 300 standalone stores, with over half operating inside 46 airports nationwide. MRG prides itself on 'creating unique experiences' for customers by developing distinctive retail store concepts that feature and highlight the local culture, community and lifestyle of the cities in which they are located. MRG, along with the largest electronics-based retailer in the nation, InMotion, are now wholly owned subsidiaries of WH Smith, the leading global retailer in news, books and convenience for the world's traveling customer. For more information visit: marshallretailgroup.com. Like and follow MRG on Facebook, Instagram and Twitter.

About InMotion Entertainment Group
InMotion Entertainment Group is the largest airport-based electronics retailer with more than 120 locations throughout the United States. Together with Marshall Retail Group, InMotion is a part of world-renowned retailer WH Smith. InMotion operates in 44 of the top performing U.S. airports as InMotion, Soundbalance, Headphone Hub, and iStore. With access and insight into the latest technologies for business and leisure travelers, InMotion offers lifestyle products and electronics that include a wide breadth of headphones, mobile power, Bluetooth speakers and travel accessories. InMotion has been the recipient of numerous industry awards that include recognition by Airport Experience News for "Best Specialty Retailer" and "Best Concessions, Highest Regard for Customer Service" for four years running. For more information and real-time updates, visit InMotion online at: www.InMotionStores.com. Follow the conversations on LinkedIn, Facebook, Twitter and Instagram.
Media Contacts:
Kirvin Doak Communications
marshallretailgrouppr@kirvindoak.com
702.737.3100