The Utah Jazz store is now open inside the airport's Concourse A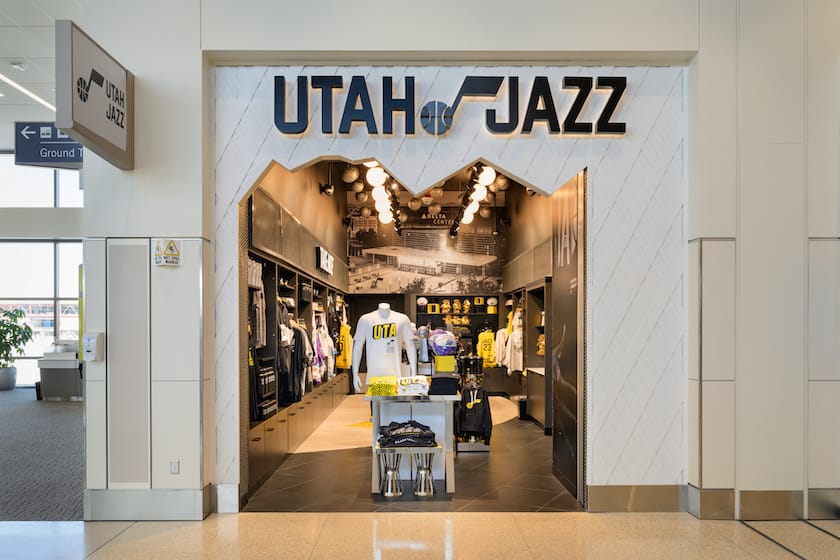 High-res images can be found here
Photo credit belongs to Stuart Ruckman
SALT LAKE CITY – WH Smith North America (WHSNA), incorporating Marshall Retail Group and InMotion, America's leading specialty retailer in the airport marketplace, in partnership with the Utah Jazz opened the first-ever Utah Jazz-dedicated airport team store inside Salt Lake City International Airport (SLC). The store is located between Gate 31 and Gate 33 in a recently opened section of Concourse A.
The Utah Jazz Team Store positions the team's brand, jerseys, apparel, and other merchandise front and center, making it easy for travelers to purchase the latest gear, whether they are just arriving for a visit to Salt Lake City, perhaps to attend a Utah Jazz game, headed to explore other parts of Utah, or simply passing through SLC International on their way to their final destination.
The concept of the store is a Jazz fan's haven, exclusively offering Utah Jazz-branded gear – team jerseys, t-shirts, hoodies, outerwear, and additional apparel, as well as gifting and collectable items like plush toys, basketballs, hats, accessories, and more.
"Our team is ecstatic about this partnership, and we would like to express our gratitude to the Utah Jazz organization and Salt Lake City International Airport for the opportunity to bring this unique store to fans and travelers at SLC," said Toby Keir, CEO of WH Smith North America. "At WH Smith North America, we are constantly looking for ways to elevate the experience of airport travelers, and I know people will enjoy all of the merchandise that the Utah Jazz has to offer."
"The Salt Lake City Airport is the gateway to Utah for visitors from around the world and having a Utah Jazz Team Store prominently positioned within this beautiful new concourse is an opportunity for the Jazz to greet millions of visitors to our state moments after they walk off the airplane," said Chris Barney, chief commercial officer, Utah Jazz.
The Utah Jazz joins WH Smith North America's roster of stores at SLC, including the two recently opened Public Market locations also in Concourse A, LEGO and local specialty shop, Giftology. With the opening of the Utah Jazz Team Store, WH Smith North America now operates eight total retail locations at SLC.
For more information on WH Smith North America locations and retailers, visit marshallretailgroup.com and inmotionstores.com, or to see more dining and retail options available at SLC, visit slcairport.com.
###
About WH Smith North America
WH Smith is a leading global travel retailer with over 1,700 stores across 30 countries worldwide. WH Smith North America, incorporating Marshall Retail Group (MRG) and InMotion, represents over half of the Company's international store estate, with c.320 specialty retail stores located in airports and resorts across North America.
MRG prides itself on creating unique experiences for customers by developing distinctive retail store concepts that feature and highlight the local culture, community, and lifestyle of the cities in which they are located. InMotion Entertainment Group is the largest airport-based electronics retailer in travel locations globally, with more than 120 locations throughout the United States. With access and insight into the latest technologies for business and leisure travelers, InMotion offers lifestyle products and electronics that include a wide breadth of headphones, mobile power, Bluetooth speakers and travel accessories. Follow Marshall Retail Group and InMotion on LinkedIn.
About the Utah Jazz
Founded as the 18th member of the National Basketball Association (NBA) in 1974, and located in Salt Lake City since 1979, the Utah Jazz are committed to excellence as a team and in the community. On the court, the Jazz are the second-winningest team in the NBA over the last 30 years, having won nine division titles and two Western Conference championships along with 17 seasons of 50-plus wins, and are supported by one of the most passionate fan bases in all of sports. The Utah Jazz also operate the Junior Jazz program, the largest and longest-running youth basketball league in the NBA, featuring more than 60,000 players and an additional 13,000 volunteers who take part annually across six states. For more information on the Utah Jazz, an entity of Smith Entertainment Group, visit www.utahjazz.com.
Media Contacts:
Kirvin Doak Communications
marshallretailgrouppr@kirvindoak.com
702.737.3100
Cassie Batinich
Utah Jazz
cassie.batinich@utahjazz.com