These new concepts are now open in the airport's Concourse E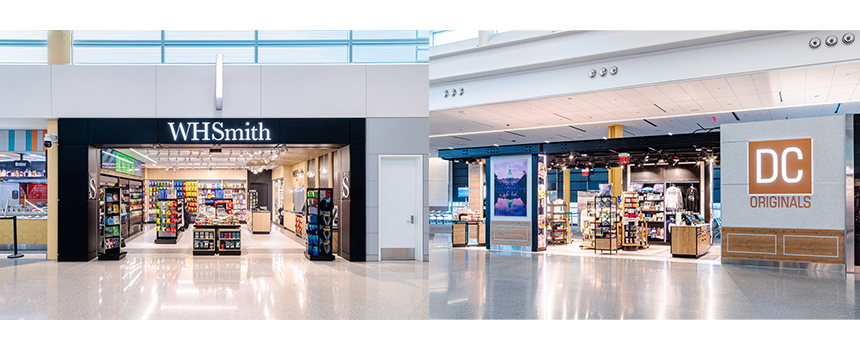 High-res images can be found here
Photo credit belongs to David Buerk
WASHINGTON, D.C. – Marshall Retail Group (MRG), America's leading specialty retailer in the airport marketplace, is pleased to announce the company's latest additions to the retail program at Ronald Reagan Washington National Airport (DCA), DC Originals and WH Smith. Both retailers are now open in the airport's Concourse E.
DC Originals is a unique marketplace that offers travelers a wide variety of products from beloved local vendors and well-known brands. Travelers can shop gifts and souvenirs like tea towels, pillows, coasters, stickers, magnets and more from local-favorite brands including Naked Décor and The Neighborgoods. Kids apparel and accessories, supplied by DC local Lil Fishy, are also available at DC Originals. The new WH Smith newsstand is a one-stop shop for books, magazines, gourmet snacks, refreshments, and must have travel essentials while on the go. The sleek and modern newsstand also offers apparel, gifts, souvenirs and more.
"We are grateful to our partners at MarketPlace Development and The Metropolitan Washington Airports Authority for the opportunity to bring DC Originals and WH Smith to the airport, which join our existing collection of unique, retail concepts at the airport," said Toby Keir, CEO of MRG and InMotion, "Our team's creativity and versatility allow us to capture the spirit of the DC region in a store like DC Originals, and we look forward to our continued partnership with the team at DCA."
DC Originals and WH Smith have debuted on the heels of four recent openings at DCA, including two The Café at DCA locations, Capitol File News and InMotion, marking an exciting continuation of MRG's work with the airport. The partnership set to expand even further, as MRG was recently awarded the space to develop five additional concepts at DCA. MRG also operates America! and another InMotion location at DCA.
For more information on MRG locations and retailers, visit marshallretailgroup.com, and to see more dining and retail options available at DCA, visit flyreagan.com.
###
About WH Smith North America
WH Smith is a leading global retailer for news, books, and convenience with more than 1,700 retail stores across 30 countries. Marshall Retail Group and InMotion Entertainment Group, WH Smith's North American businesses, operate 321 locations spanning 46 airports. Marshall Retail Group is America's leading specialty retailer in the airport and casino- resort marketplace. MRG prides itself on creating unique experiences for customers by developing distinctive retail store concepts that feature and highlight the local culture, community, and lifestyle of the cities in which they are located. InMotion Entertainment Group is the largest airport-based electronics retailer with more than 120 locations throughout the United States. With access and insight into the latest technologies for business and leisure travelers, InMotion offers lifestyle products and electronics that include a wide breadth of headphones, mobile power, Bluetooth speakers and travel accessories. Follow Marshall Retail Group and InMotion on LinkedIn.

Media Contacts:
Kirvin Doak Communications
marshallretailgrouppr@kirvindoak.com
702.737.3100