The new concepts are now open inside the airport's recently renovated Grand Lobby and Terminal Improvement Program.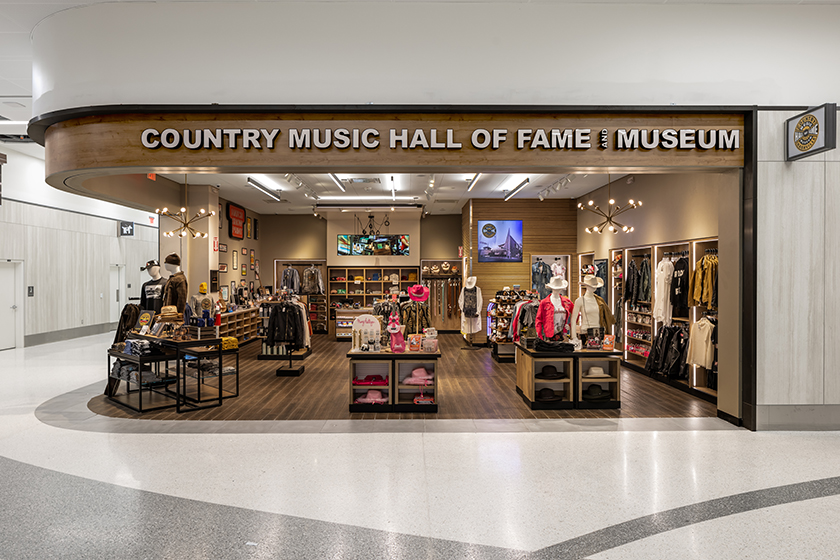 High-res images can be found here
Photo credit belongs to Seth Parker.
NASHVILLE, TENN. – WH Smith North America (WHSNA), incorporating Marshall Retail Group and InMotion- America's leading specialty retailer in the airport marketplace, is pleased to announce the opening of four retail locations at Nashville International Airport (BNA), including Whiskey Trailhead, Natalie's Candy Jar, Musicians Hall of Fame and Country Music Hall of Fame and Museum. These retail concepts are now open to all travelers inside BNA's recently renovated Grand Lobby and Terminal Improvement Program.
Inspired by the Tennessee Whiskey Trail, which is a popular tour of more than 30 whiskey distilleries across the state, Whiskey Trailhead is a unique concept that highlights the distilleries along the iconic trail. Whiskey Trailhead offers travelers a selection of full bottles of whiskey, merchandise from various stops along the trail, and even has tastings available in-store.
Natalie's Candy Jar serves signature specialties and confectionary gift items to Nashville travelers. Since its conception, the colorful, self-serve candy store has been a delight for both kids and adults alike and is brimming with favorites for everyone. Natalie's features over 500 varieties of conventional, nostalgic, proprietary and hard-to-find candies, high end chocolates and other candy related gifts. Offerings include a large bulk selection of chocolates, sours, gummies, jubes and jells, an assortment of sugar-free treats and many other favorites.
WH Smith North America's Musicians Hall of Fame concept at BNA pulled design inspiration from the real Musicians Hall of Fame Museum located in Nashville. Design details include a replica of Memphis' famous Sun City Recording Studio, where Elvis first recorded, a black guitar collage made of real guitars, a Jimi Hendrix "Purple Haze" record replica and a juke box with flying records.
Paying homage to the country greats that have come out of Nashville, Country Music Hall of Fame and Museum shares the great history of country music through novelty and specialty retail items, like t shirts, rhinestone jean jackets, western hats, mugs, and more. There is also a special section dedicated to Hatch Show Print posters available for purchase in-store.
"Nashville is such a unique place and our teams at WH Smith North America are proud to provide travelers a place to take a piece of this great city home with them." said Toby Keir, CEO of WH Smith North America, "We are grateful for the opportunity to contribute these imaginative concepts to BNA's Grand Lobby project. It was a pleasure to work with the amazing teams at Fraport, USA, The Metropolitan Nashville Airport Authority, and our locally based ACDBE partners, Angela Mitchell Hill and Marti Emch, as well as our locally based Brand partners, and we look forward to continuing our partnership in the future."
WH Smith North America also operates MEEL, InMotion and The Arts District Market at BNA, and is a partner in Nasah's Nurture-Nature. For more information on WH Smith North America locations and retailers, visit marshallretailgroup.com, and to see more retail options available at BNA, visit flynashville.com.
###
About WH Smith North America
WH Smith is a leading global travel retailer with over 1,700 stores across 30 countries worldwide. WH Smith North America, incorporating Marshall Retail Group (MRG) and InMotion, represents over half of the Company's international store estate, with c.320 specialty retail stores located in airports and resorts across North America.
MRG prides itself on creating unique experiences for customers by developing distinctive retail store concepts that feature and highlight the local culture, community, and lifestyle of the cities in which they are located. InMotion Entertainment Group is the largest airport-based electronics retailer in travel locations globally, with more than 120 locations throughout the United States. With access and insight into the latest technologies for business and leisure travelers, InMotion offers lifestyle products and electronics that include a wide breadth of headphones, mobile power, Bluetooth speakers and travel accessories. Follow Marshall Retail Group and InMotion on LinkedIn.
Media Contacts:
Kirvin Doak Communications
marshallretailgrouppr@kirvindoak.com
702.737.3100