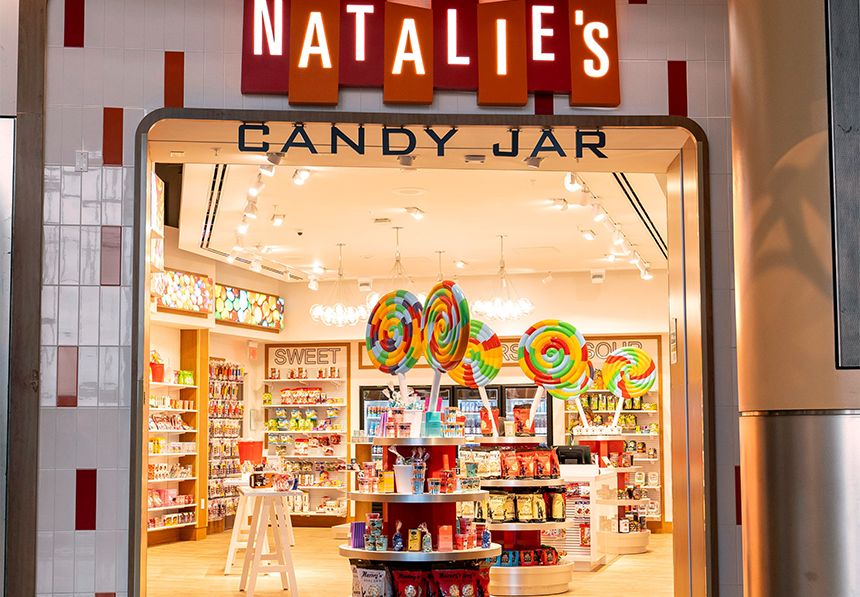 High-res images can be found here
Photo credit belongs to David Ryder
SEATTLE – Marshall Retail Group (MRG), a WHSmith company and America's leading specialty retailer in the airport marketplace, has partnered with the award-winning airport candy store, Natalie's Candy Jar to open its newest location in the Seattle-Tacoma International Airport (SEA). The opening marks the first venture between Marshall Retail Group and Natalie's Candy Jar.
Officially opened at SEA on Friday, May 27, Natalie's Candy Jar is now serving its signature specialties and confectionary gift items to Seattle travelers. Since its conception, the colorful, self-serve candy store has been a delight for both kids and adults alike and is brimming with favorites for everyone. Natalie's features over 500 varieties of conventional, nostalgic, proprietary and hard to find candies, high end chocolates and candy related gifts. Offerings include a large bulk selection of chocolates, sours, gummies, jubes and jells, and a generous assortment of sugar-free treats and local and regional favorites.
"We are thrilled to announce our partnership with Natalie's Candy Jar," said CEO of Marshall Retail Group and InMotion, Toby Keir, "The store has become a staple of the airport experience in many cities, and we are honored Natalie's Candy chose us as a partner to assist in expanding the reach of this joyful retailer on the West Coast."
"We are proud to debut our new and exciting refreshed look at the Seattle Tacoma International Airport", said Natalie's Candy Jar Managing Partner, Cielo Taub. "And we are honored to be partners with Marshall Retail Group as they grow their concession program at SEA.
Natalie's Candy store is open daily from 6:00 a.m. to 10:00 p.m. For more information on MRG locations and retailers, visit marshallretailgroup.com, and to see more retail options available at SEA, visit https://www.portseattle.org/sea-tac/dining-retail.
###
About Marshall Retail Group
Marshall Retail Group (MRG) is America's leading specialty retailer in the airport and casino- resort marketplace. For 65 years, MRG has provided clients with a collection of attractive, successful brands in more than 300 standalone stores, with over half operating inside 46 airports nationwide. MRG prides itself on 'creating unique experiences' for customers by developing distinctive retail store concepts that feature and highlight the local culture, community and lifestyle of the cities in which they are located. MRG, along with the largest electronics-based retailer in the nation, InMotion, are now wholly owned subsidiaries of WH Smith, the leading global retailer in news, books and convenience for the world's traveling customer. For more information visit: marshallretailgroup.com. Like and follow MRG on Facebook, Instagram and Twitter.
Media Contacts:
Kirvin Doak Communications
marshallretailgrouppr@kirvindoak.com
702.737.3100