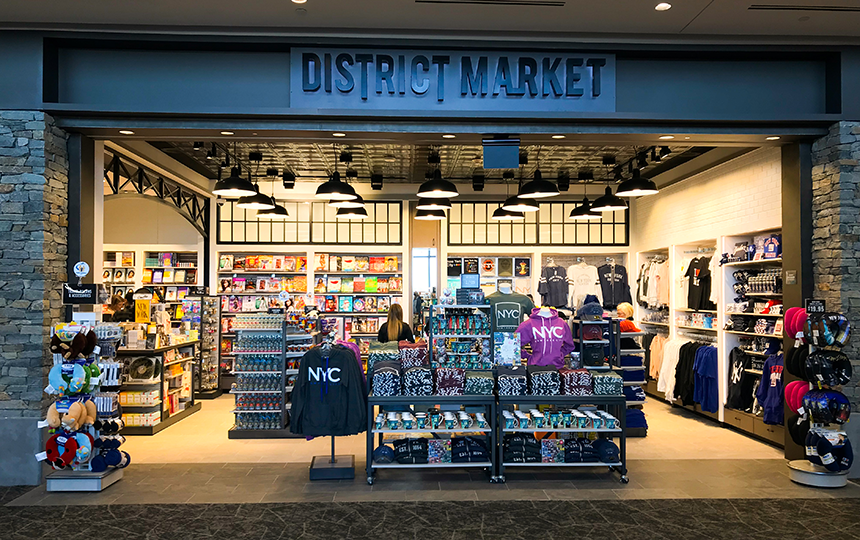 images:  https://spaces.hightail.com/receive/XNXyu39Wnl
LAS VEGAS (Dec. 5, 2018) –Marshall Retail Group (MRG) recently opened District Market Store inside Terminal B at LaGuardia Airport (LGA). The store offers travelers a fresh and exciting concept featuring local products through partnerships with Made in Queens and Fresh Direct among others.
MRG is delighted to be part of this exciting new development within the first set of new retail options at the new state-of-the-art Terminal B at LGA.
These shops are in the eastern concourse of the new terminal, which was part of the $8 billion overhaul of the entire airport.
MRG and our minority partners from St Croix Airport Retail and Imagine Airport Ventures were selected to operate the 1,900 square foot District Market, which features travel essential products, unique gifts and souvenirs featuring 'Made in Queens' products, and fresh local grab and go products.
Some of the 'Made in Queens' merchandise includes:  T-shirts, sweatshirts and hats from Queens Thread, organic scented soaps and body butter from Melati Bath & Body, confections from Roni-Sue's Chocolates and Ashanty Chocolates as well as greeting cards from WidyCat and Niizeki Hiromi.District Market Store is open daily from 4:30 am – 10:00 pm inside Terminal B at LaGuardia Airport.
For more information on LGA, visit www.laguardiacentral.com or follow on Twitter at @LGACentral.
###
About Marshall Retail Group
Marshall Retail Group is America's largest, independent specialty retailer in the airport, casino, and resort marketplace. For 60 years, MRG has provided clients with a portfolio of attractive, successful brands that turn pedestrians into window shoppers, window shoppers into buyers, and buyers into loyal, repeat customers. The premiere retail development company currently operates more than 160 stores across the United States and Canada.
Media Contacts:
Kirvin Doak Communications
Terri L. Maruca
marshallretailgrouppr@kirvindoak.com
702.737.3100