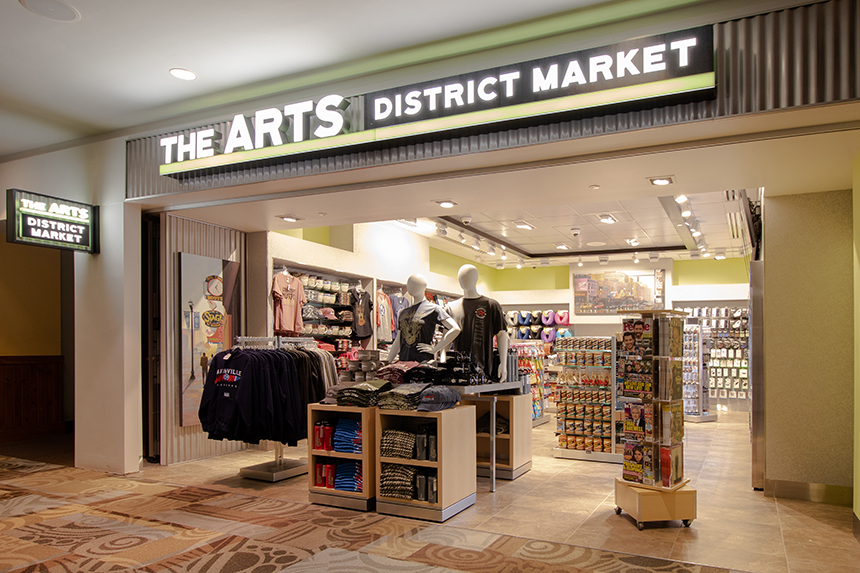 Image may be downloaded here.
NASHVILLE, TN – Marshall Retail Group, one of America's largest specialty retailers in the airport marketplace, is excited to announce its expansion into the newly renovated retail terminals inside Nashville International Airport (BNA). The foray into the space is met with the opening of The Arts District Market, a travel and convenience store, and NāSah's Nature~Nurture nail salon.
Marshall Retail Group emerges into a new retail space in the Nashville area with the announcement of The Arts District Market store in Terminal A, which offers locally sourced goods and features artwork from local artist, Talia Kahl. The substantial growth of Nashville's art and music scene is a direct reflection of the products available to travelers visiting the city without having to leave the airport. As part of the design aesthetic integrated in the space, two pieces of original artwork from Talia Kahl don the walls and embody Nashville's illustrious Honky Tonks along lower Broadway.
Visitors can also peruse through the store to view artisanal merchandise curated from local artists in addition to newsstand products such as snacks, comfort items, souvenirs, travel goods and more to enhance their experience when visiting Nashville. Notable local brands featured inside the store include Bang Candy Co., Shotwell Candy Co. and Olive & Sinclair.
Marshall Retail Group's second concept is a joint venture with Angela Mitchell Hill, founder and creator of NāSah's Nurture~Nature, an oasis to relax in a busy airport. The full-service nail salon and spa offers natural products and services and a selection of beauty and gift brands that have been carefully handpicked for goodwill missions and the special causes they support.
The Arts District Market is open daily from 5 a.m. to 10 p.m. NāSah's is open daily from 8 a.m. – 9 p.m. For more information on Marshall Retail Group's unique retail concepts, visit https://www.marshallretailgroup.com/.
###
About Marshall Retail Group
Marshall Retail Group (MRG) is America's largest specialty retailer in the airport, casino, and resort marketplace. For 60 years, MRG has provided clients with a portfolio of attractive, successful brands that turn pedestrians into window shoppers, window shoppers into buyers, and buyers into loyal, repeat customers. The premiere retail development company currently operates more than 170 locations across the United States, with 70 of those operating inside airports. Stemming from iconic retail pioneers, Art Marshall and Herb Rousso, MRG has grown into a wide variety of markets such as major gaming corporations and many of the nation's largest airports by "Creating Unique Experiences" with the consumer in mind. MRG has been awarded "Best Brand Retailer" and "Best Customer Service in Retail" in the 2018 Airport Experience Awards®, and winner of USA Today's "10 Best" awards in 2019 for "Best Airport Shop for Local Merchandise." For more information visit: marshallretailgroup.com. Like and follow MRG on Facebook, Instagram and Twitter.
Media Contacts:
Kirvin Doak Communications
marshallretailgrouppr@kirvindoak.com
702.737.3100