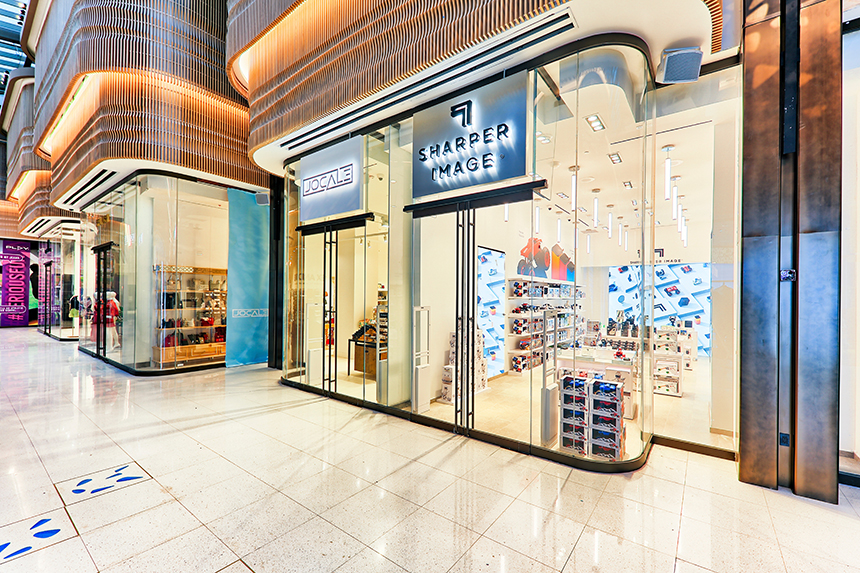 Image may be downloaded here.
HOLLYWOOD, FL (Nov. 4, 2019) – Marshall Retail Group (MRG), America's largest independent specialty retailer in the airport, casino and resort marketplace, introduces two new store openings inside the highly-anticipated Seminole Hard Rock Hotel & Casino Hollywood. The property will feature a first-of-its-kind, Sharper Image store, as well as Jocale, a female-focused gift shop.
The new Hard Rock entity will house 26,000-square-feet of shopping experiences for tourists, including the first location to house the newly rebranded Sharper Image store. Its second store opening, Jocale, offers an assortment of ladies' fashion jewelry and curated gifts in a beach-inspired environment.
Locals and travelers looking for unique gifts, gadgets and timeless accessories can browse the wide selection of available products in each store inside the newly constructed property.
The iconic Sharper Image brand is known for bringing futuristic and innovative experiences to consumers, which continues to evolve. Each product is built to be clever, visionary and timeless. Sharper Image's entirely updated branding will accompany its commitment to delivering the ultimate consumer experience. Guests at Seminole Hard Rock Hotel & Casino Hollywood will be the first to experience the new look and feel of the iconic brand in exclusive partnership with Marshall Retail Group.
Catering to the contemporary female, Jocale reflects the roots and culture of Southern Florida, displaying a variety of locally inspired gifts and products from brands like Chariot Luggage, Corksicle and Natural Life. Jocale also provides an assortment of statement jewelry from Alex & Ani and Brighton Collectibles, offering shoppers a selection of on-trend products for any taste and budget.
"We're very excited to launch two new stores inside the beautifully designed Seminole Hard Rock Hotel & Casino Hollywood property," said Michael C Wilkins, CEO of Marshall Retail Group. "Our partnership with Sharper Image in developing the first physical store with the company's completely updated branding marks a prominent milestone for Marshall Retail Group."
Hours of operation for both stores are 10 a.m. – 10 p.m. daily. For more information on Marshall Retail Group's partners and store locations, visit marshallretailgroup.com.
###
About Marshall Retail Group
Marshall Retail Group (MRG) is America's largest, independent specialty retailer in the airport, casino, and resort marketplace. For 60 years, MRG has provided clients with a portfolio of attractive, successful brands that turn pedestrians into window shoppers, window shoppers into buyers, and buyers into loyal, repeat customers. The premiere retail development company currently operates more than 170 locations across the United States, with 70 of those operating inside airports. Stemming from iconic retail pioneers, Art Marshall and Herb Rousso, MRG has grown into a wide variety of markets such as major gaming corporations and many of the nation's largest airports by "Creating Unique Experiences" with the consumer in mind. MRG has been awarded "Best Brand Retailer" and "Best Customer Service in Retail" in the 2019 Airport Experience Awards®, and winner of USA Today's "10 Best" awards in 2019 for "Best Airport Shop for Local Merchandise." For more information visit: marshallretailgroup.com. Like and follow MRG on Facebook, Instagram and Twitter.
About Seminole Hard Rock Hotel & Casino Hollywood
Seminole Hard Rock Hotel & Casino Hollywood is the flagship casino resort of Hard Rock International, owned by the Seminole Tribe of Florida. This world-renowned entertainment, gaming and hospitality destination unveiled a $1.5 billion expansion on Oct. 24, 2019. New offerings include 638 upscale guestrooms in the first-ever Guitar Hotel, 168 luxury guestrooms and unique swim-up suites in the adjacent Oasis Tower at Seminole Hard Rock Hotel & Casino Hollywood, and 465 newly redesigned guestrooms in Hard Rock Hotel for a combined room count of 1,271 throughout the resort. Additional amenities include the lush, "Bora Bora" style lagoon with private cabanas and butler service; a 42,000 square-foot Rock Spa® & Salon; a 13.5-acre recreational water experience for swimming, kayaking and paddle boarding; 19 dining outlets and 20 bars and lounges; an expansive gaming floor with 3,100 slots, 195 table games and a 45-table poker room; 120,000 square feet of premier meeting and convention space including a 38,000 square-foot, carpeted exhibition hall; and a 26,000 square-foot retail promenade. The highly anticipated Hard Rock Live entertainment venue with a 7,000-person capacity, will showcase A-list entertainers, comedy acts, Broadway performances, sporting events and live broadcast productions. The integrated resort is located on 87 acres of the Hollywood Seminole Reservation along State Road 7 (U.S. Highway 441), and is 10 minutes from Fort Lauderdale/Hollywood International Airport and 30 minutes from downtown Miami and Miami International Airport. For more information, visit us online at www.seminolehardrockhollywood.com, call 800-937-0010 or follow us: Facebook: SeminoleHardRockHollywood, Twitter: @HardRockHolly, Instagram: @HardRockHolly
Media Contacts:
Marshall Retail Group
Callie Chambers / Mikenzi Schulze
marshallretailgrouppr@kirvindoak.com
702.737.3100
Seminole Hard Rock Hotel & Casino Hollywood
Teresa Shum
teresa.shum@seminolehardrock.com
954.327.7631
Kirvin Doak Communications
marshallretailgrouppr@kirvindoak.com
702.737.3100