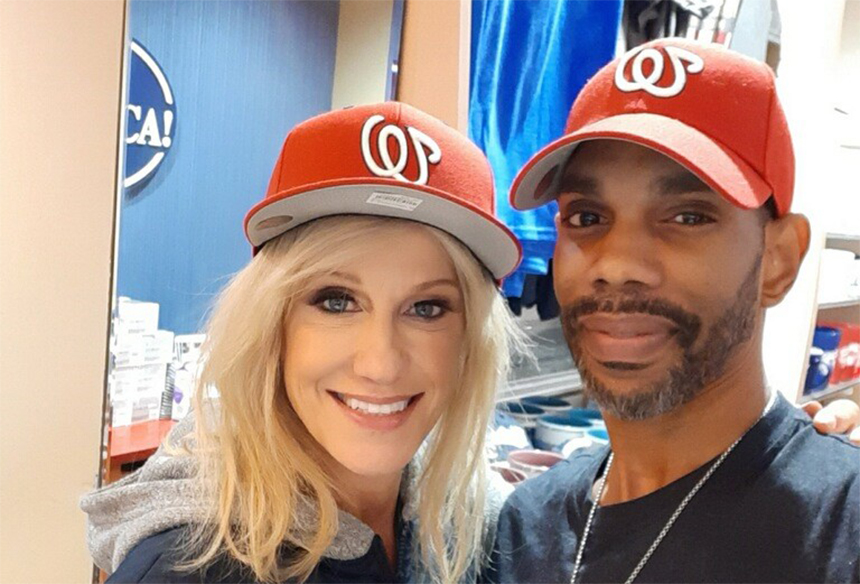 (Pictured: Counselor to the President of the United States, Kellyanne Conway and Marshall Retail Group's Union Station AMERICA! Store Manager, Larry Calhoun)
Images may be downloaded here.
On Saturday, Nov. 3, Counselor to the President of the United States, Kellyanne Conway, visited Marshall Retail Group's AMERICA! store at Union Station in Washington, D.C. to purchase Washington Nationals merchandise following the major league baseball team's 2019 World Series win.
Marshall Retail Group's Larry Calhoun assisted Conway during her visit. Due to his exceptional service he delivered, Conway invited Calhoun to the White House to meet the Nationals during their visit to meet the president.
###
About Marshall Retail Group
Marshall Retail Group (MRG) is America's largest, independent specialty retailer in the airport, casino, and resort marketplace. For 60 years, MRG has provided clients with a portfolio of attractive, successful brands that turn pedestrians into window shoppers, window shoppers into buyers, and buyers into loyal, repeat customers. The premiere retail development company currently operates more than 170 locations across the United States, with 70 of those operating inside airports. Stemming from iconic retail pioneers, Art Marshall and Herb Rousso, MRG has grown into a wide variety of markets such as major gaming corporations and many of the nation's largest airports by "Creating Unique Experiences" with the consumer in mind. MRG has been awarded "Best Brand Retailer" and "Best Customer Service in Retail" in the 2019 Airport Experience Awards®, and winner of USA Today's "10 Best" awards in 2019 for "Best Airport Shop for Local Merchandise." For more information visit: marshallretailgroup.com. Like and follow MRG on Facebook, Instagram and Twitter.
Media Contacts:
Kirvin Doak Communications
marshallretailgrouppr@kirvindoak.com
702.737.3100