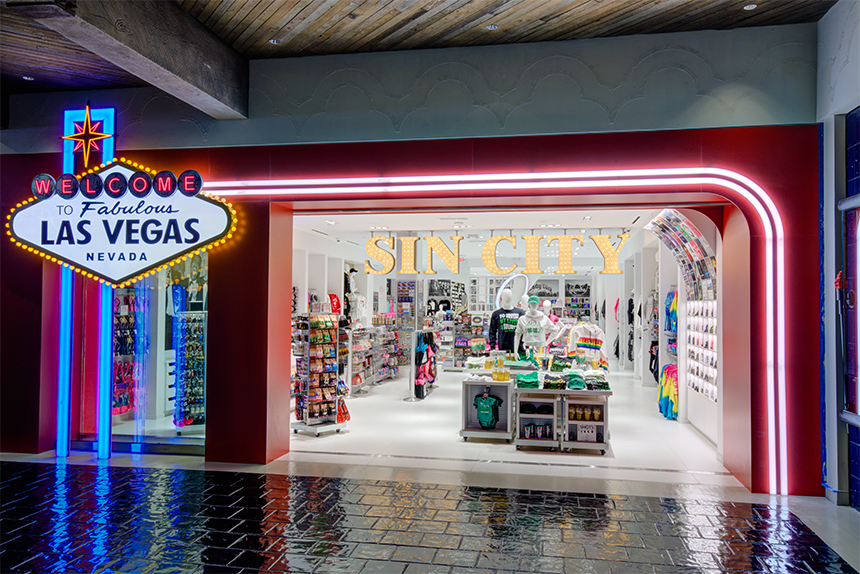 Image may be downloaded here.
Tweet It: Are you looking for a Las Vegas souvenir or a gift? Look no further. The newly opened  @Welcome2LVGifts inside @ShopGrandCanal features @LasVegas souvenirs including T-shirts, hats, collectibles and more. #WelcomeToLasVegas
LAS VEGAS – The Welcome to Las Vegas Gift Shop by Marshall Retail Group is now open in The Grand Canal Shoppes, an upscale shopping mall, located inside The Venetian Resort Las Vegas and The Palazzo on the Las Vegas Strip. The newly opened, one-stop gift shop is home to some of the city's most popular souvenirs for both visitors and residents alike.
Designed with the city's visitors in mind, the 3,066-square-foot store offers guests an extensive array of iconic Las Vegas souvenirs to celebrate and commemorate their one-of-a-kind experiences in the valley. The gift shop features exclusive Las Vegas-themed merchandise and custom curated products such as professional hockey team gear, logo athleisure, kids' apparel, gifts and more.
"We're thrilled to begin 2020 on such a strong note," said Michael C. Wilkins, CEO of Marshall Retail Group. "This new store opening marks a significant celebration of two decades of partnership with the Grand Canal Shoppes and represents the next generation of success for our Welcome to Las Vegas stores."
The Welcome to Las Vegas Gift Shop at The Grand Canal Shoppes is open from 9 a.m. to 11 p.m. Sunday through Thursday and from 9 a.m. to midnight on Friday and Saturday. For more information on Marshall Retail Group's unique retail concepts, visit https://www.marshallretailgroup.com/.
###
About Marshall Retail Group
Marshall Retail Group (MRG) is America's largest, independent specialty retailer in the airport, casino, and resort marketplace. For 60 years, MRG has provided clients with a portfolio of attractive, successful brands that turn pedestrians into window shoppers, window shoppers into buyers, and buyers into loyal, repeat customers. The premiere retail development company currently operates more than 170 locations across the United States, with 70 of those operating inside airports. Stemming from iconic retail pioneers, Art Marshall and Herb Rousso, MRG has grown into a wide variety of markets such as major gaming corporations and many of the nation's largest airports by "Creating Unique Experiences" with the consumer in mind. MRG has been awarded "Best Brand Retailer" and "Best Customer Service in Retail" in the 2018 Airport Experience Awards®, and winner of USA Today's "10 Best" awards in 2019 for "Best Airport Shop for Local Merchandise." For more information visit: marshallretailgroup.com. Like and follow MRG on Facebook, Instagram and Twitter.
About the Grand Canal Shoppes
The Grand Canal Shoppes at The Venetian is a premier destination for Las Vegas luxury shopping. Featuring over 160 signature stores with dozens of luxury brands, the Shoppes are more than a Las Vegas shopping mall; they're a style lover's dream come true.
Media Contacts:
Kirvin Doak Communications
marshallretailgrouppr@kirvindoak.com
702.737.3100