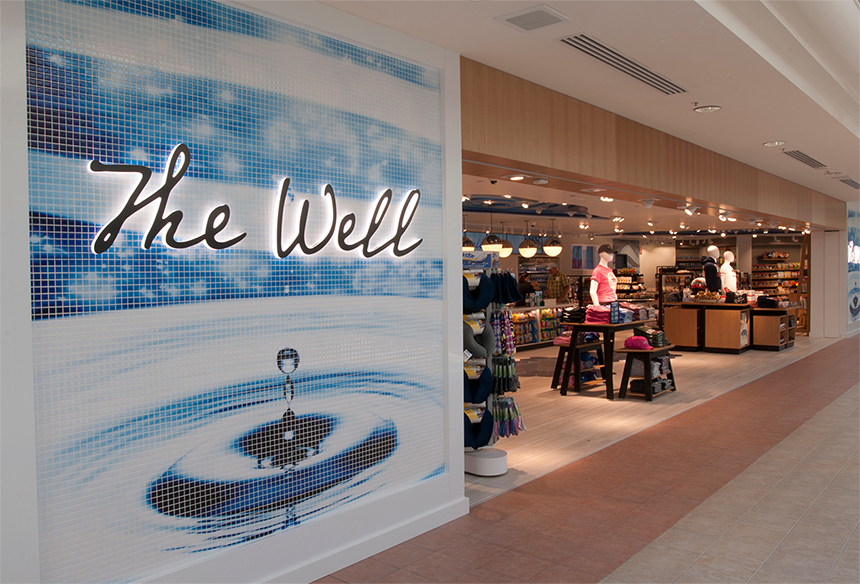 Images may be downloaded here.
SACRAMENTO, CA (Aug. 22, 2019) – Marshall Retail Group (MRG), America's largest, independent, specialty retailer in the airport, casino, and resort marketplace introduces The Well – The company's newest concept featuring locally-sourced artisanal gifts in a hydration-focused environment, located in Terminal A at Sacramento International Airport (SMF).
The newly opened 3,500 square-foot space ties environmentally friendly products and distinctive gifts from Northern California to travelers from around the world. MRG's significant growth in the specialty retail category is largely attributed to the company's focus on creating local partnerships with brands that prioritize sustainability and giving back.
The focal point of The Well is the state-of-the-art self-serve Water Bar offering guests an unparalleled hydration experience that connects them to people and the planet. Emerging drinkware companies que and CAUS® offer convenient and stylish alternatives to disposable bottles while promoting positive change in the community through nonprofit support and environmental awareness.
In addition to locally themed men's, women's, and children's gifts, The Well features an assortment of gourmet foods from local artisans such as Ashby Confections, Bert's Bites, LA-based Compartes, Le Grand, Napa Valley's Woodhouse, and more.
"The Well connects travelers at SMF to exceptional taste experiences offered by Northern California's most loved and well-known artisans," said Michael C. Wilkins, CEO of MRG. "MRG is proud to bring a local flavor into the airport environment enriching the traveler's journey."
The Well is open from 4:30 a.m. – 12:30 a.m. daily. For more information on Marshall Retail Group's partners and store locations, visit marshallretailgroup.com.
###
About Marshall Retail Group
Marshall Retail Group (MRG) is America's largest, independent specialty retailer in the airport, casino, and resort marketplace. For 60 years, MRG has provided clients with a portfolio of attractive, successful brands that turn pedestrians into window shoppers, window shoppers into buyers, and buyers into loyal, repeat customers. The premiere retail development company currently operates more than 170 locations across the United States, with 70 of those operating inside airports. Stemming from iconic retail pioneers, Art Marshall and Herb Rousso, MRG has grown into a wide variety of markets such as major gaming corporations and many of the nation's largest airports by "Creating Unique Experiences" with the consumer in mind. MRG has been awarded "Best Brand Retailer" and "Best Customer Service in Retail" in the 2019 Airport Experience Awards®, and winner of USA Today's "10 Best" awards in 2019 for "Best Airport Shop for Local Merchandise." For more information visit: marshallretailgroup.com. Like and follow MRG on Facebook, Instagram and Twitter.
About que:
que Factory is a product development company founded in 2016 by husband and wife duo Jean Wu and Kevin Shen with the mission of making sustainability more simple. que Factory believes that you should not have to sacrifice style and convenience when trying to protect the environment. Their first product, que Bottle, is a sleek spiraled reusable water bottle that can shrink down into half its size. Made with food-grade silicone it is flexible, durable, and 100% plastic-free. For every bottle sold, que Factory donates 10% of the proceeds to The Rainforest Trust to help protect protect land and wildlife. que Bottle has been featured and praised by notable institutions such as SF + NY MoMA, The de Young, and The Smithsonian Museum for its unique design and worthy cause. For more information please visit quebottle.com.
About CAUS®:
CAUS® is a line of stainless-steel drinkware that donates 25% of all profit to charities to promote positive change throughout the world. There is power in your purchase. You can help STOP human trafficking and SUPPORT crisis and disaster relief. YOU can HELP provide safe drinking water and RESCUE animals across the country. YOU can help END Women's Cancers. YOU can STAND UP for CAUS® and make a difference in our world. Engage with CAUS on social media at @thisismycaus and #thisismycaus. For more information visit thisismycaus.com.
Media Contacts:
Kirvin Doak Communications
marshallretailgrouppr@kirvindoak.com
702.737.3100